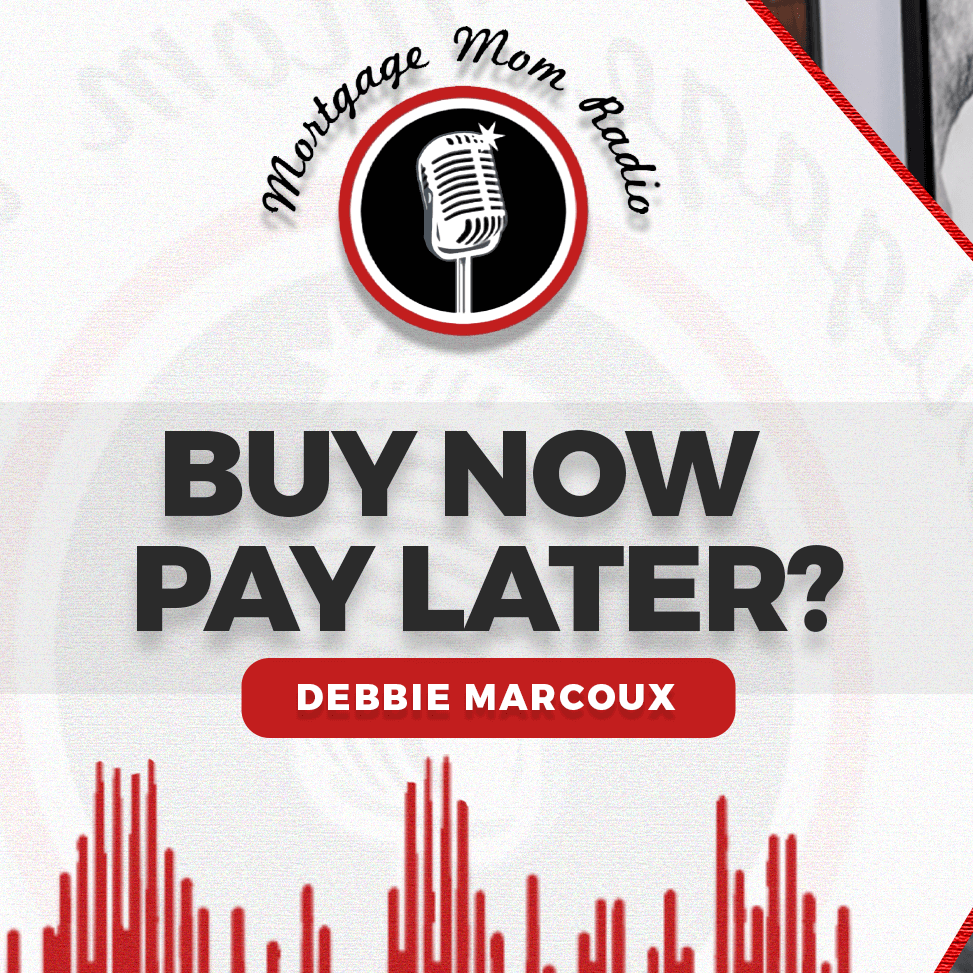 Holiday Shopping. Should you buy now pay later?
Podcast: Play in new window | Download (Duration: 57:02 — 52.4MB) | Embed
Subscribe: Apple Podcasts | Android | Email | RSS | More
Wednesday, December 8th, 2021
On today's segment, Debbie and Heather discuss important trending topics in the Mortgage and Lending industry. At the top of the show, Debbie mentions how the format of the show will be changing a bit, including more of her team coming onto the show. She will be hosting 3 live stream's per week on YouTube, Monday, Tuesday, and Wednesday.  Rather than one, one hour stream per week, they will be shorter 20 minute or less segments. This should provide easier to watch content, and additional days available for live interaction to accommodate your schedules.
The Mortgage Mom Radio team is available seven days a week for appointments. If you call, 844-935-3634, the call service will schedule your appointment even after hours.
Heather and Debbie discuss trending economic "Holiday Season" topics. One of the main topics they focus on is the "Buy Now Pay Later" trend i.e. Klarna and Afterpay. They explain the details of how those services work and how important it is to know what you are getting into when using them.
They go on to talk about how refinancing your home (pulling cash out) could benefit you to pay off those high interest rate credit cards, medical debts, student loans, as well as the buy now pay later agreements. Heather brings up a great example of how you can bring your credit card balances to $0, save money on your monthly cash flow, while paying down your loan quicker by adding additional money to your payment.
Debbie explains that reviewing a Blended Rate Calculation with all debts that you own will prove that sometimes paying off the debt and refinancing into a higher rate may make sense. The math does not lie, so why not see the calculation to determine if it is right for you? Book your free phone consultation today on MortgageMomRadio.com!
Debbie says that EVERYONE should be trying to buy a home right now, especially with inflation on the rise.
Check out the Mortgage Mom Radio online merch store! The beer mugs are insane! SHOP NOW
Book your free phone consultation today, BOOK NOW
We are LIVE on YOUTUBE every Wednesday @ 1PM PST. Interact with us LIVE while we record! Ask us your questions right in the comments or call in and you will be patched through to the studio. Text "MOM" to 844-935-3634 for a weekly link to join when we get started.
Mortgage Mom Radio equips you with all the mortgage education that you could ask for right at your fingertips! Listen to our Podcast with hours of shows and topics, download our PHONE APP loaded with every mortgage tool that you could need, and finally, watch our HOMEBUYER WORKSHOP SERIES on YouTube!
Debbie Marcoux is licensed by the Department of Financial Institutions under the California Residential Mortgage Lending Act, NMLS ID 237926, also licensed in AZ-0941504, FL-LO76508, GA-69178, ID-167867, IL-031.0058339, NV-57237, OR, TN-184373, TX, WA-MLO-237926